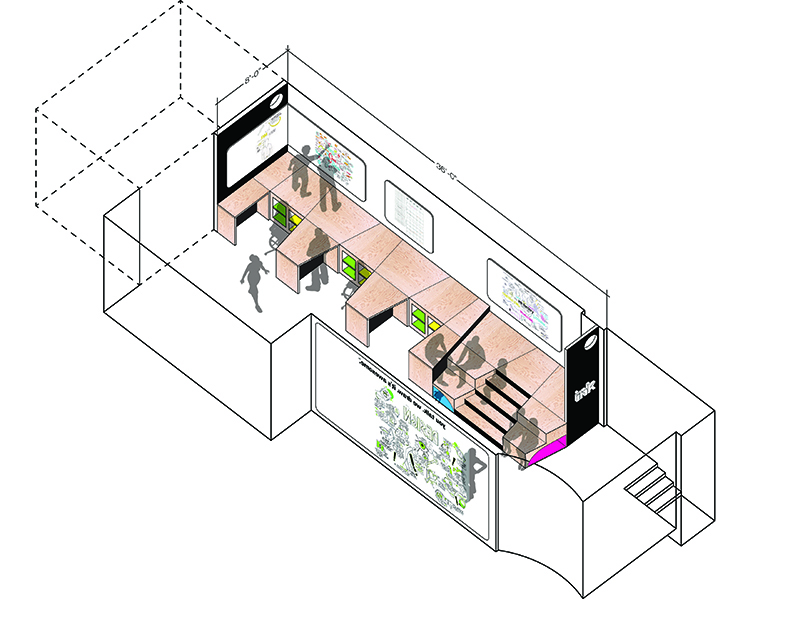 With a company tag line "You Talk, We Draw, Its Awesome", Perimeter Architects could not resist collaborating with the talented Ink Factory team. Perimeter transformed the compartmentalized studio by amplifying their wonderfully apparent energetic process. They are graphic recorders, action sketch video artists, and illustrators.
Ink Factory's mission is to explore new and more innovative ways to elevate your conversation, convention, keynote speech, or weeklong strategy session. Their ideas come in all shapes and sizes – LED light panels, painted murals that celebrate communities, social networks where interactions are tangible and visible, and even a gigantic sketchbook to record your big ideas. No task is too big or too small for their talented team.
The existing office consisted of a series of 42" tall work desks centered in the space, storage stacked along one wall and one massive whiteboard. This resulted in an office that was cluttered, inefficient and ultimately uninspiring. The client wanted a space that would provide four standing height work stations, a communal lounge space, an enclosed conference room, organized storage, new lighting, and as many whiteboards as possible. Most importantly, they wanted a dynamic space that reflected their booming personalities, and cultivated creative energy.
The 1,200 square foot space of this typical Chicago storefront presented dimensional challenges in that it is long and narrow, measuring 20ft wide by 60ft long with 12ft ceilings. These restrictions made it clear that the solution needed to be multi-functional, compact, and take advantage of the vertical wall space. With the talents of a theatrical scenery fabricator, Perimeter designed the entire program out of (42) 3/4" Birch veneered plywood sheets; creating desks, steps, lounge platforms, and storage. Steps up to the secondary brainstorming areas double as seating focusing the team off the main whiteboard.
The "Fish Bowl" provides the company a private space within an otherwise open studio. It again reinforces the varied powerful personalities that make up this talented collaboration. Perimeter even found space for a "Whisky Lounge", a sleeping space for the client's office dog.