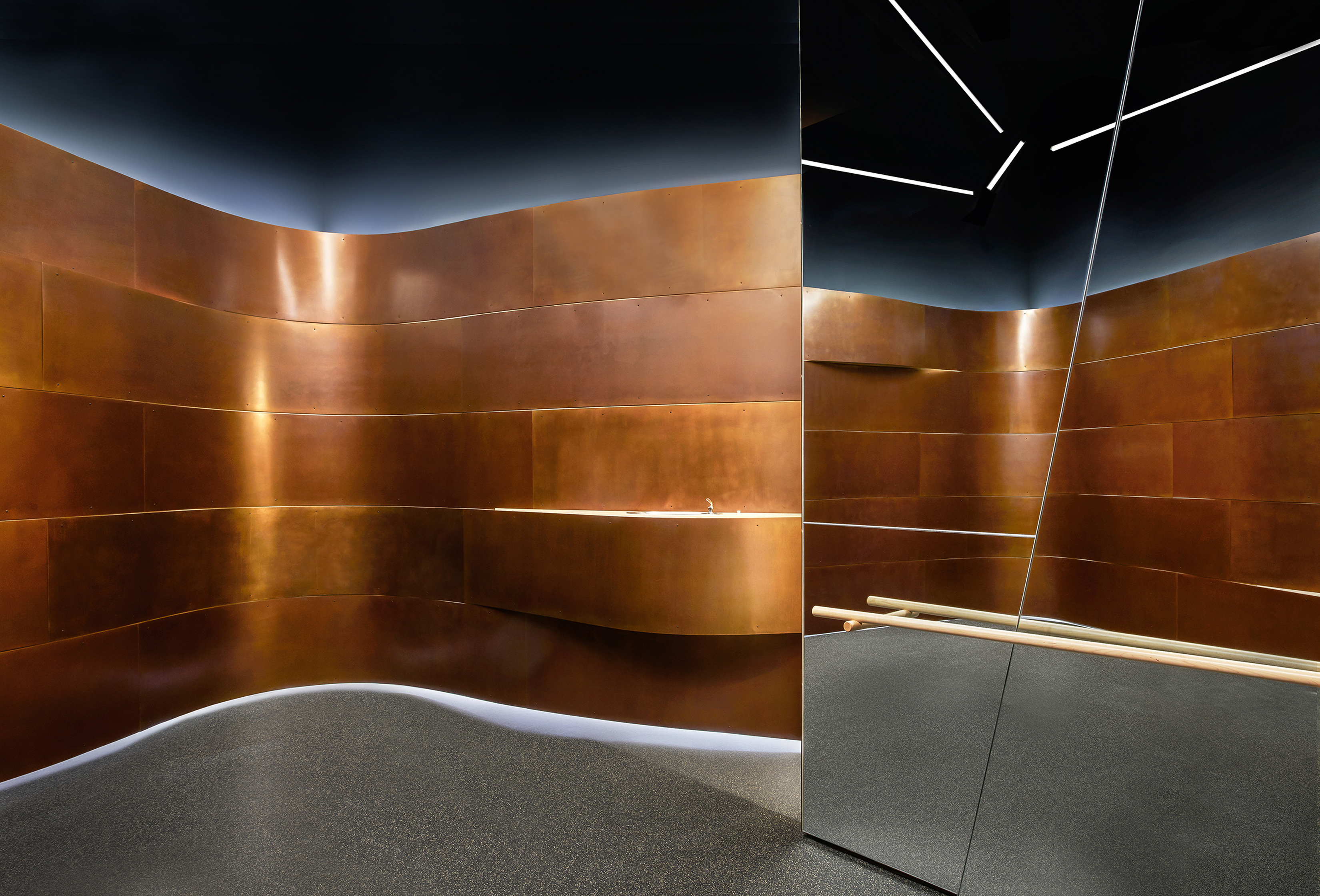 Four years after successfully renovating the common areas in the historic Locomobile Loft building, we were invited back to re-design its only amenity; an old, secluded fitness room. In contrast to the previous improvements of the common areas, this hidden space stood out as a derelict with little known use. Thus, our intent to make this program relevant again focused on augmenting the connection between the building tenants and their shared living place.
Strategically, the fitness room needed a revised entry sequence, distinguished from the existing unit doors. In creating a large cut and a subtle angle within the common wall, we formalized a polarizing entry along the context of the narrow, and long hall. Within this formed transition space, a large glass door acts as an aperture, providing a greater sense of comfort and security from within. On the inside of the room, we re-appropriated the non-fitness related functions, stacking them upward inside the reflective core. This new found verticality, literally, created much needed breathing room, while gaining the extra area at the main floor.  An energy recovery ventilator was part of the new integrated mechanical system, offsetting energy use while enhancing the air quality for all.
A modular, undulating cladding strategy was employed as an exploration of how one comfortably occupies an inside corner within a small cube-like room. As a result, the perimeter becomes more flexible with greater freedom to place objects and supporting functions along the continuous wall.  We utilized CNC technology for increased efficiency and fluidity, highlighting quality and craftsmanship, which the prior space severely lacked.
This dynamic space is a new chapter to building's historic existence, and with the tenant's increased awareness of improved spatial qualities, we hold confident it will withstand time and add an intrinsic value for all to share.